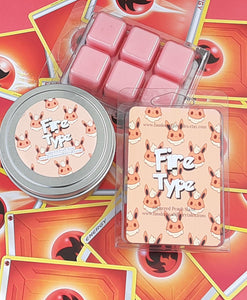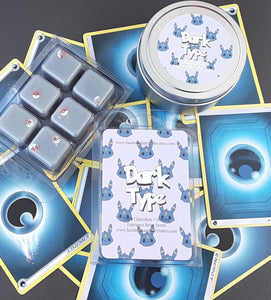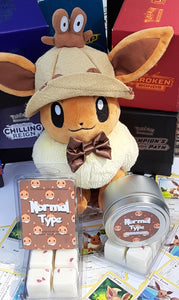 The Eeveelution Wax Scents are finally here! Eevee and the Eeveelutions are my favorite Pokemon! My go to decks usually have a Sylveon or a Glaceon in them:-) These scents have been in the works for the last two years as we debated and refined exactly what each one needed to smell like. Choose wax melts, candle or room spray in these 9 awesome scents-
Normal Type- Eevee inspired Snickerdoodle scent. This is an updated version of a favorite in the Fandoms and Fairytales shop
Water Type- Vaporeon inspired Sea Spray scent
Ice Type- Glaceon inspired vanilla mint marshmallow scent
Fire Type- Flareon inspired Gingered Peach scent
Dark Type- Umbreon inspired dark chocolate covered espresso beans
Psychic Type- Espeon inspired blackberry sage scent
Electric Type-Jolteon inspired lemon meringue pie scent
Grass Type- Leafeon inspired fresh cut grass scent
Fairy Type- Sylveon inspired Strawberry Soda scent. this is an update of our current Fairy Wind scent. (I know that fairy types are currently discontinued in pokemon and sylveon is currently a psychic type but it'll always be a fairy type to me:-))
Ships 5 to 7 days after purchase. Please see my other listings for additional poke inspired scents
Room spray info-Please READ the full details! The newest addition to my home fragrance line up- room sprays! You guys have been requesting these and I've been testing formulas for the past few months. I'll be adding more scents over the next few months. While not as long lasting as wax melts or candles, these room sprays provide an instant scent to any room. Expect a 15 to 30 minute light scent with 3-5 sprays in a medium size room. Use less for a small area, more for a large area. DO NOT USE on finished surfaces. Test all fabrics before spraying with scent. I've tested these on several types and colors of fabrics and haven't had an issue but always test first. 
Caution: Adult use only. Keep out of reach of children and pets. Avoid direct contact with furniture, fabrics, finished surfaces, high heat or flame. Do not ingest! Avoid contact with face, eyes or broken skin.
Ingredients:FDA approved SD alcohol, Water, Fragrance, Glycerin, Propylene Glycol, Benosophenone-2.
Made to order, please allow one week until ready to ship.

Sold in 4 oz metal spray bottles. Measures approx. 7" tall including spray top, 1.25" diameter.
choosing a selection results in a full page refresh
press the space key then arrow keys to make a selection