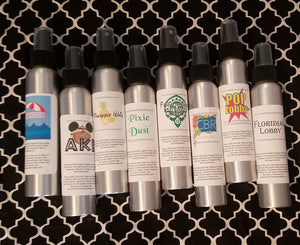 Experience a tantalizing scent that lasts 15-30 minutes in medium-sized rooms with 3-5 sprays! For smaller areas, use less, for larger areas, use more. Please read full details carefully - these room sprays should not be used on finished surfaces, and fabric must be tested for compatibility with scent prior to spraying. I've tested on several types and colors of fabrics without issue, but it's important to be safe!
Caution: Adult use only. Keep out of reach of children and pets. Avoid direct contact with furniture, fabrics, finished surfaces, high heat or flame. Do not ingest! Avoid contact with face, eyes or broken skin.
Ingredients:SD alcohol, Water, Fragrance, Glycerin, Propylene Glycol, Benosophenone-2.


Sold in 4 oz metal spray bottles. Measures approx. 7" tall including spray too. 

Resorts-

Floridian Lobby/ Bay Lake Lobby/Contemporary/Beach Club- The deluxe lobby scent of clover and aloe

Polynesian Lobby- a relaxing blend of white tea, ginger, bamboo, cedarwood and a hint of vanilla

CBR Resort Loop- a Caribbean blend of tropical fruit and greens

Pop Lobby- the green tea and lemongrass scent in the Pop Century resort Lobby

Polynesian Lobby- Jus t like the scent pumped into the Polynesian Resort Lobby- Bamboo, White tea, ginger, vanilla and cedarwood

AKL- Smokey vanilla and sandalwood

Castaway- DCL inspired Castaway Cay scent- Smells like sun tanning on the beach

Parks-

Soaring over Horizons- that familiar orange scent from the previous orange groce scene in Soarin- and from the now gone Horizons- with a touch of pine.

Thank the Phoenicians- My family loves Spaceship Earth at Epcot. The iconic scene showing the Library of Alexandria on fire, highlighting the burning of Rome has a distinctive scent. These wax melts are my version of that scent- warm crackling woods with a hint of cedar and papyrus.

Be Our Guest at Philharmagic- Apple Pie Scent

Hitchhiking Ghosts- Inspired by The Haunted Mansion- An unsettling floral blend- funeral flowers (carnation) tobacco smoke, graveyard dirt and trunks in the attic.

Great Big Beautiful Tomorrow- Carousel of Progress- Bergamot, Grapefruit and orange

Rope Drop- Coffee to fuel your rope dropping morning! Smells like rich coffee and sugar, like you stopped in to the Main Street Starbucks for a cup of coffee

Snacks-

Pineapple Whip- Inspired by the iconic Pineapple and Vanilla Soft serve concoction from Aloha Isle in Adventureland. Sweet pineapple and creamy Vanilla scent.

Caramel Apple- That yummy scent from Candy Caldron and Sweet Spells, juicy apple and Creamy caramel just like a fresh dipped Mickey Apple.

Cupcake Crawl- One of the best parts of a WDW vacation- sampling cupcakes from around the resort-inspired this Buttercream Frosted Cupcake scent.

Breakfast with Mickey- Mickey Waffles scent- the iconic Waffle at WDW, we have to have it at least once a trip. Buttery Maple Waffle scent.

Patisserie- Raspberry Macaron

Mousing around Canada- Maple Cream Brulee

Churro Cart- Churros and Chocolate

Liberty Square Snacks- Cinnamon sugar dusted funnel cake just like you're having a snack at Sleepy Hollow treats.

Studio Snacks- Just like a carrot cake cookie from the Writer's Stop

Believe In Magic- Vanilla Buttercream Crunch

Main Street- Popcorn and Sugar cookies

WDW Holiday Scents-

Boo to You- Cinnamon, vanilla, apples, fall leaves and clove

Holidays at the Resorts- like the Gingerbread houses in the deluxe resorts during the holiday season

Christmas Party-This scent reminds me of the magical smell of Christmas and Mickey's Very Merry Christmas Party! The fragrance is a beautiful blend of Cinnamon bark, Fir, clove, orange and Christmas cookies.

HalloWishes- a Woodsy fall scent- similar to Autumn Nights from Yankee.

Very Merry- Peppermint Hot cocoa and sugar cookies

Characters-Princesses, Princes, Villains

Figment- Fig, Guava and Strawberry

Whosits and Whatsits Galore- A Little Mermaid inspired scent. Just imagine her counting her thingamabobs, whosits and whatsits. A beachy floral blend with Sea Salt, sea grass, drift wood and sea moss.

Poor Unfortunate Souls- Ursula- Sea Salt and Orchids

Fairest of them All- Macintosh Apple

Enchanted Rose- A beautiful Rose Scent for Beauty and the Beast fans.

True Love's Kiss- Sleeping Beauty Inspired- a sweet candy floral for Aurora fans.

A Whole New World- Jasmine Vanilla Scent

A Girl Worth Fighting For- Cherry Blossom scent

You've Got A Friend In Me- Best Friends Scent- ?

Prince Charming- A cologne type fragrance with Lavender, Oakmoss and Cardamom

Very Merry Unbirthday- Birthday Cake Scent

Sugar Rush- Vanellope- Blue Cotton Candy

Wreck It- Lemon Pound Cake

Wonderland Tea Party- Iced lemon Cakes with a hint of black tea.

Happily Ever After (also labeled as Til Death Do Us Part) Wedding cake scent

Pixie Dust- This sweet smelling wax tart is a combination of pixie sticks, cotton candy and gummy bears- sweet and tart smelling

Mistress of all Evil- Maleficent Inspired- Based on Lush's Lord of Misrule fragrance, these have notes of patchouli, warm sandalwood, vanilla, citrus, vetiver and a touch of black pepper

Almost There- Inspired by Princess Tiana, this is a White tea and ginger fragrance.

Pucker Up, Buttercup- perfect for kissing frogs, White peach and hibiscus scented

Fairest One Of All- Inspired by Snow White, this scent is juicy Macintosh Apples.

Croissant Donut- Refreshment Port in Epcot has the spectacular Croissant Donut or Cronut- a yummy smelling buttery donut scentHappily Ever After/Til Death Do Us Part- Wedding Cake

How Far I'll Go- Island Hibiscus Scent

You're Welcome- Coconut Bay

Experiment 626- Fruit loops

Nightmare Before Christmas

Making Christmas- Nightmare Before Christmas inspired scent –Fresh cut Christmas trees

The Pumpkin King- A Jack Skellington inspired Fall scent- Pumpkin, vanilla and spices.

This is Halloween- Apple Cider Donut

Simply Meant To Be- Forever Romance scented

Zero- Peppermint Fluff

Star Wars Inspired Scents:

Princess Leia's Cinnamon Buns- An ode to the greatest hairstyle in a galaxy far, far away. Delicious freshly baked cinnamon bun scent.

Scruffy Nerf Herder- A masculine blend of amber wood, bergamot, and a little hint of citrus. A masculine scent with a soft side:-) Perfect for a Han Solo fan!

Wookiee Cookies- Sugar cookie scent

I have Spoken- A golden Sans type scent- Orange Flowers, vanilla, sandalwood and Tonka beans.

Droid, Please! - Inspired by BB8, this creamsicle scent is orange and vanilla.

There is No Try- Yoda inspired Lemon lime soda and sherbert scent

That's No Moon- Darkside Dark chocolate fudge brownie scent

Threepio- Banana Nut Muffin

Artoo- Blueberry Muffin

This is the Way- Vanilla Latte

The Child- Bamboo, Green Tea and Lemongrass



Marvel/DC

All American Hero/America's Ass- Captain America inspired Apple Pie scent

Natasha- Black Widow inspired Black Raspberry Vanilla scent

Friendly Neighborhood Spiderman- Sticky marshmallow with a hint of almond

Hulk Smash- a relaxing Eucalyptus Spearmint scent

Dark Knight- Batman inspired scent- has a base of patchouli, cedar, vetiver and frankincense, a bit of citrus, peppercorn, ginger, jasmine and a hint of peppermint

Doctor Who scents-

Dalektable- Strudel and Spice scented

Wibbly Wobbly- Blueberry Cheesecake scented

Timey Whimey- Spiced Caramel scented

Don't Blink- *Discontinued- Limited QTY*an ode to the Weeping Angels, Lush Linen fragrance- a blend of soft florals and clean cotton

Absolutely Fantastic-*Discontinued- Limited QTY* inspired by Rose, this golden rose scent wax is so vibrant and full

Runaway Bride- Wedding cake scented( note to my longtime customers- this is the same wedding cake scent in my Happily Ever After and Until Death Do Us Part wax melts)



Wizard of Oz Scents-

Emerald City- Lucky Four Leaf Clover Scent- Rich green grasses and clover

Flying Monkeys- The fragrance oil in this wax melt is really called Monkey Farts! It's a tropical fruit blend with banana, peach, strawberry and citrus.

Field of Poppies- A sleepytime Chamomile and Lavender scent

Are You a Good Witch or a Bad Witch?- Scented with Pink Sugar type fragrance- A perfume type floral with notes of cotton candy, lily, vanilla and musk.

Ruby Slippers- Berries and White Tea scented



Random Fandoms-

So Fetch- Mean girls inspired Poison Pie scent- berry pies and vanilla

When Dinosaurs Ruled the Earth- Rainforest Sugar cane scented- Fresh and sweet

Coffee With Friends- Inspired by Friends and the Central Perk- smells like a caramel macchiato

Princess Peach- Georgia Peach scented

Harry Potter Scents-

Butterbrew- the iconic drink from Harry potter- a yummy blend of butterscotch and French vanilla

Yule Ball- A woodsy pine with a hint of spice

Courage and Bravery- Gryffindor inspired Black Tea and Currant scent

Wit and Wisdom- Ravenclaw inspired similar to Bath and Body Works Dark Kiss scent- dark and sweet floral.

Loyal and Kind- Hufflepuff inspired, green tea and lemongrass

Cunning and Ambitious- Slytherin inspired, Dragon's blood incense type scent\

Pokemon Scents:

Eevee- Snickerdoodle

Fairy Wind- Strawberry soda

Skitty- Strawberry shortcake

Snorlax-lavender vanilla

Bulbasaur-candied fruit slices

Let's Go- Pikachu inspired Pineapple Marshmallow scented



Contact me with any questions. Follow me on facebook to see all the newest items, hear about sales and find coupon codes. https://www.facebook.com/fandomsandfairytales/
Tag us on instagram- @fandomsfairytales
www.instagram.com/fandoms_fairytales
www.fandomsandfairytales.com
choosing a selection results in a full page refresh
press the space key then arrow keys to make a selection